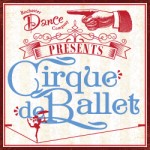 Saturday, April 12, 2014 | 3:00 & 7:00 pm
Sunday, April 13, 2014 | 2:00 pm
Mayo Civic Center's Presentation Hall
Tickets | $18 and $15
Tickets can be purchase through the Mayo Civic Center Box Office or Ticketmaster.
Each ticket price includes a $1 Mayo Civic Center Facility Fee
Rochester Dance Company presents a two part evening of dance entertainment that blends ballet with everyone's favorite themes from the Circus:
Ladies and Gentlemen, Boys and Girls, step right up and get your tickets to The Big Top Ballet! The Ringmaster and glamorous Assistant will introduce you to all the colorful characters. We have a variety of Acts for you: Polka Dot Poodles begging for a treat and Balancing Belles who forgo a tightrope for delicate balances, sur la Pointe! There will be a Dancing Bear, complete with pink tutu and a bevy of Baby Ballerina Bears in training. The elegant Horse Trainer will lead the horses through their paces, smooth and beautiful all the way. Don't forget the Acrobats, full of control and precision. What's a Circus without Clowns! The Clowns will entertain you from beginning to end with their zany antics!!
For Act 2 the pace changes: the theme is Avian, the look is mysterious and the moves are more modern. The contemporary Cirque de Ballet will delight you with sleek costuming, mesmerizing music and moves that range from quirky to sinuous to dynamic.   A visual delight to enjoy from a purely Cirque inspired dance perspective.