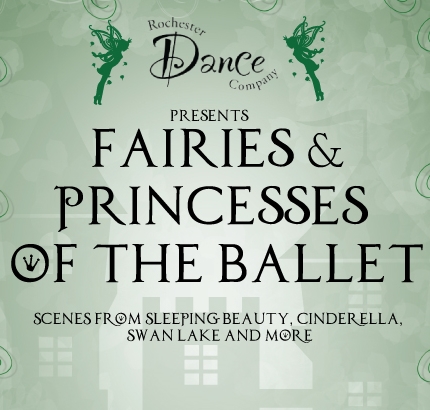 Saturday, April 18, 2015 | 6:00 pm
Sunday, April 19, 2015 | 2:00 pm
Byron Middle School Auditorium
601 4th St NW | Byron, MN
Tickets | $10 (General Admission only)
Tickets can be purchased in advance from the RDC website or at the door.
Rochester Dance Company presents a dance evening featuring scenes that include everyone's favorite Fairies and Princesses of the ballet:
The King and Queen have invited all the Fairies to the christening of the new born Princess Aurora. Led by the Lilac Fairy, they each bring a special gift to bestow upon the young princess.
Fairies of the forest are having a picnic on a The Midsummer's Eve.  Who will attend?
The Princesses have come from all the neighboring Kingdoms to dance for the Prince. Which one will he choose to be his bride? They are all as elegant as they are beautiful, but alas, the Prince is in love with the Swan Queen.
Cinderella has been left alone while her Step Mother and Step Sisters have gone to the Royal Ball. With only mice to keep her company she imagines herself at the Ball. Dancing with a broom is not quite the same as dancing with a Prince, but the Fairy Godmother steps in to help her.
A Finale to the music from Frozen will cap off the evening and  leave you wanting to dance all the way home!