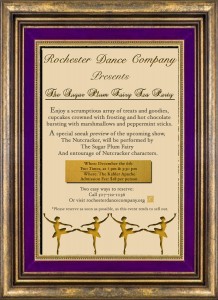 The Rochester Dance Company will once again host its annual holiday tradition, the Sugar Plum Fairy Tea!
Enjoy a delightful afternoon tea with the graceful Sugar Plum Fairy and other costumed characters from RDC's production of The Nutcracker. There will be a scrumptious array of treats and goodies, and a hot chocolate bar with a variety of delicious fixings. When the Sugar Plum Fairy enters with her entourage of Nutcracker characters, it will be time for a sneak preview of The Nutcracker, to be performed at the Mayo Civic Center, December 12 & 13.
Tea Details:
Sunday, December 6, 2015 | 1:00 PM & 3:30 PM
The Kahler Apache Hotel Ballroom
1517 16th St SW, Rochester
$18 per person
Tables of eight may be reserved; please indicate your seating wishes on your order and coordinate with friends & family accordingly.
Tea registration and payment can be accepted online only.
Complete the online order form. You will be connected to PayPal at the end of the form to complete payment with credit card or PayPal account.
Reservations must be received by Sunday, November 29, 2015.