Rochester Dance Company's Spring 2018 Show: Coppelia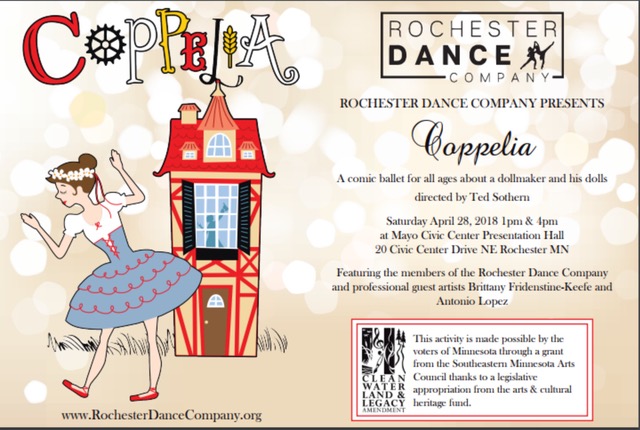 We are very excited to bring Coppelia to the Mayo Civic Center this spring. Coppelia is a classical and comic ballet in three acts. Coppelia is also a great family ballet, and there will be dancing dolls, maidens, and village boys and girls. Two wonderful guest artists, professional dancers Brittany Fridenstine-Keefe and Antonio Lopez, will be dancing the lead roles Swanhilda and Franz. Ted Sothern, RDC's artistic director will dance Dr. Coppelius.
We follow the story of Dr. Coppelius, an eccentric toy maker, and his mechanical dolls. His favorite doll is called Coppelia. Dr. Coppelius tries to make Coppelia come to life with magic, but all seems to fail. He eventually places Coppelia on a seat on the balcony to dry. It is then when Franz, a village boy, becomes infatuated with Coppelia, thinking that she must be a real girl and not just a doll. His fiancé, Swanhilda, sees Franz looking at Coppelia and becomes very upset with him. After sneaking into the toyshop, Swanhilda soon learns that Coppelia is actually just a doll that belongs to Dr. Coppelius. He helps Swanhilda impersonate the doll, in order to win the love of Franz. Franz first thinks that the doll has come to life, but later understands the trick.  In the end, they forgive one another and laugh about the mistaken identities. Franz and Swanhilda get married in the village with a big celebration where all of the boys and girls of the village come to cheer in a grand finale.
Coppelia at Mayo Civic Center
Saturday, April 28, 2018 at 1:00 PM
Saturday, April 28, 2018 at 4:00 PM
---
Guest Artists:
Brittany Keefe
Brittany Keefe is currently a freelance dancer and teacher in the Twin Cities. Most recently she was a company member for the James Sewell ballet and as a teacher she was an adjunct faculty professor at Northern Illinois University and the school coordinator of the Rockford Dance Company. Brittany has danced with Pacific Northwest Ballet, Pittsburgh Ballet Theatre, Ballet Memphis, Minnesota Dance Theatre, James Sewell Ballet, American Repertory Ballet, Terpsicorps Dance Theater, Twin Cities Ballet, Terra Firma Dance Company, Chamber Dance Project, St. Paul Ballet, at the National Choreographers' Initiative, and with Morphoses. She performed in a solo improvisation show in Germany and Italy under the direction of Luca Veggetti, and was selected to be an American ambassador at the international dance festival in Cali, Columbia. Brittany is certified in the GYROTONIC® exercise system and has served as the chair of the dancer council for Dance/USA. Brittany is the proud mother of Olive and the wife of Matthew Keefe, with whom she is building DanceCo – a dance company creating original dance narratives for young audiences and their families.
---
Antonio Lopez
Antonio Lopez began his training with Ballet Repertory Theater of New Mexico in the fall of 2011 and continued as a company member until 2013. After completing his first season with the New Mexico Ballet Company he studied under the direction of Marcia Dale-Weary at the Central Pennsylvania Youth Ballet until summer of 2016. Throughout his training he attended various summer intensives such as Joffrey Ballet NYC, Walnut Hill, CPYB, and Alonzo King Lines Ballet. During his training at CPYB, Antonio performed works by Alan Hinline, Mathew Powell, Kelly Anne-Sloan, Price Suddarth, Malinda Howe, Balanchine's Nutcracker and Western Symphony. Antonio has now completed his first season as a company member with St. Paul Ballet, while also guesting with Ashley Ballet Arts Academy and Children's Dance Theater since arriving in January of 2017.